Every professional wants meaningful work to occupy their days. The same is true of those who volunteer their time.
Ensuring an element of Saskatoon's skyline remains in place for another 100 years has been a meaningful project for two retired engineers, who are both members of the same church congregation.
Anyone who has strolled along the South Saskatchewan River between 23rd Street and 24th Street East in Saskatoon could not miss The Cathedral of St. John the Evangelist. It has been a municipal heritage property since 2004, but that designation applies only to the building's exterior, which is an example of Gothic Revival architectural style.
The designation states the building is considered a city landmark, in part due to its orientation on its original lot and well as its spire, the tallest one on a church in Western Canada. During its construction in 1913, The Star Phoenix identified the building as "a source of pride to the entire city."
Character-defining elements of the structure include the fieldstone foundation, Redcliff (Alberta) brick exterior, the Tyndall stone (Manitoba) entrance steps, and the terracotta gargoyle over the south-east entrance, which is believed to be the only one in Saskatoon. The terracotta trim used both outside and inside the cathedral originates from Doulton of Staffordshire in England.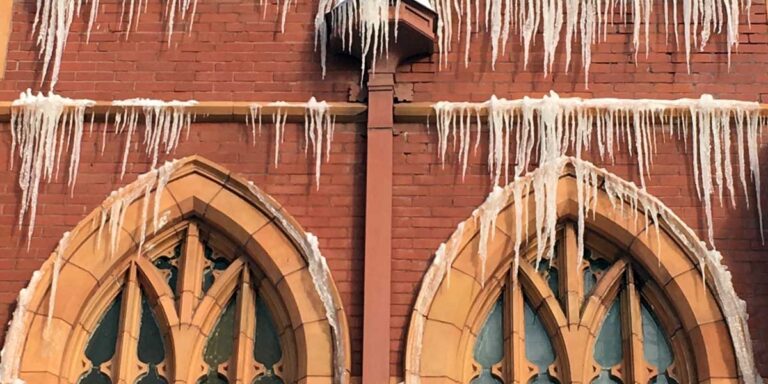 Before the gutters were fixed, the south side of the exterior of the church would be covered in ice. Photo courtesy Burt Munro.
Engineers as volunteers
What distinguishes engineers as volunteers, in part, is their dedication to solving problems. Robert Halliday, P.Eng., and Bert Munro, P.Eng., FEC, FGC (Hon.), have been dedicated for years to the project of restoring this cathedral. The project started around 12 years ago as the church was coming up on its centennial year.
Work to build the church had begun in 1912. In the decades since then, maintenance had been done but that was not going to be enough to ensure the structure would remain for generations to come.
The congregation and its leadership had to consider the building's future. Halliday was one of those parishioners, but he had more responsibility for the church property than others, being one of two church wardens for the Anglican church.
"I was what's known as the rector's warden, which is a peculiarly Anglican title," said Halliday, who explained that role meant he had responsibility for the church's property, among other matters.
Halliday has been a volunteer with the project since the beginning when a decision was made to have the building envelope of the cathedral assessed. This would allow them to understand how the roof, walls, windows and foundation were performing and how that performance was related to what was being experienced inside the building.
"I really do believe that engineers – by nature and by training – see problems and try to solve them. And, so, it was a problem that needed addressing," said Halliday, whose career was as a water resources engineer.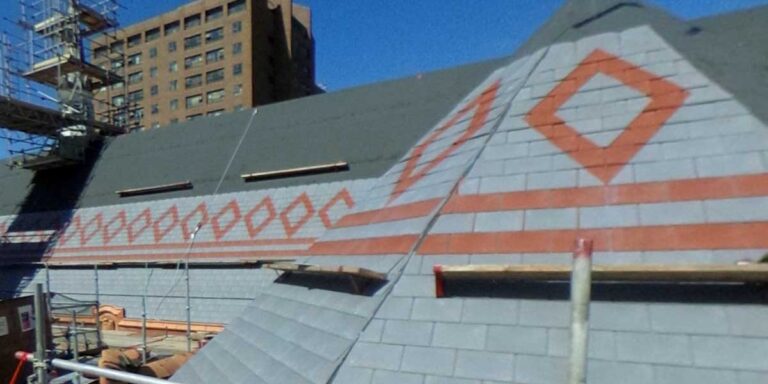 Anyone who has strolled along the South Saskatchewan River between 23rd Street and 24th Street East in Saskatoon could not miss The Cathedral of St. John the Evangelist. Bob Halliday, P.Eng., and Bert Munro, P.Eng., have been dedicated for years to the project of restoring this cathedral. The project started around 12 years ago as the church was coming up on its centennial year. Photo courtesy Robert Halliday, P.Eng. Photo courtesy PCL Construction.
Getting the project going
A request for proposals was issued. Donations were accepted to help pay for this assessment, but a grant from the Frank and Ellen Remai Foundation was a significant reason this assessment was possible. (Halliday gives credit to Derwyn Crozier-Smith, another volunteer from the congregation, for that early funding that made this project possible.)
Vancouver-based Iredale Architecture won the proposal and did the assessment along with PCL Construction.
"We had them do a survey of the state of a cathedral which included things like digging test pits and opening up parts of the building to actually have a look," said Halliday.
"It wasn't just kind of a visual survey. It was a very intensive one."
It was apparent that the building needed restoration and not just some further maintenance, but not all of its needs had to be addressed at once. A list of priorities was developed to be done over time.
"I think the initial idea was it would cost about a million-and-a-half dollars to do all this work," said Halliday.
"Here we are over 10 years in and we've spent $3 million. Part of it is just finding stuff that you didn't expect to find, but also we expanded the scope of work."
Some of that grant money from the Remai Foundation was used early on to complete phase one of the project – which was improving the Tyndall stone steps at the front entry and rebuilding side roofs that had more than 100 rotten rafters. At that time, they added insulation to the roof as well.
But the main roof needed further attention as did the high gutter drainage system. Paying for that work was going to take further fundraising efforts.
Adding another perspective
Munro is another parishioner of the church. He had volunteered to help with fundraising, but as he entered his retirement years, he saw an opportunity to use the experience he had developed during his career as a consulting engineer.
Before retiring from his role as vice-president and general manager of the Saskatchewan and Manitoba regions for Associated Engineering, he had spent decades analyzing, designing, commissioning, and managing projects throughout Western Canada.
"I had a little more time and was able to bring some skill set forward that I knew could be of some benefit having a construction background and a building facilities background – although historical buildings are another cap altogether," said Munro.
He identified many phases of work to be done.
"We weren't keeping track in phases so much at the beginning. We were just doing stuff and then Bert put more structure on it," said Halliday.
"We still have some brickwork re-pointing to work on, but it'll be basically done at the end of phase five which we head into this spring."
That work this spring will update not just the function of the roof, but its aesthetic. Shingles will be installed in a pattern that replicates the look they noted in a photograph of the building from 1917, when its original construction was completed.
While the restoration involves using modern building materials, such as those polymer slate shingles that come with a 50-year warranty, which will improve the performance of the roof, Halliday and Munro said the materials from the past are not to blame for the problems that developed.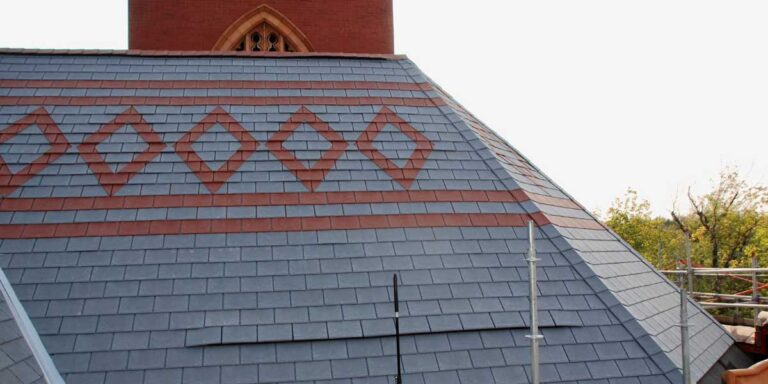 New shingles are to replicate a pattern noted in a 1917 photograph of The Cathedral of St. John the Evangelist. Photo courtesy Robert Halliday, P.Eng.
Appreciating the original design
Ensuring the building had another 100 years of life in it required referring back to the original design. The cathedral was designed by Thompson, Daniel and Colthurst, a Saskatoon-based architectural firm that operated between 1911 and 1914. All three architects – Norman Livingston Thompson, Thomas Brammall Daniel and Guy Buller Colthurst – had been trained in England before they emigrated to Saskatchewan and met one another, starting their firm. That background was evident in the design of the building.
"It's very similar to St. Benedict church near Manchester, which was designed by the prominent architect John Crowther, and you know, English churches are designed for rain, not for snow and ice," said Halliday.
But that doesn't explain why the major portions of the restoration were necessary.
"The design was not the problem. It was the 100 years of ad hoc maintenance," said Halliday.
"That's an important thing from any engineering perspective. How was this designed to perform initially and what's been done to maintain that kind of performance?"
"We decided to strip it right back down to the bones and start again. That was a key decision."
"The fundamental thing we chose to do is take an asset-management approach to this," said Munro.
"For the last 100 years, it's been largely (an approach of) 'Do what you can with what you have.'"
Over several decades, Munro said the maintenance that was done was to "fix it best you can with a bit of hay wire and binder twine, but with no sort of vision for how this fix will affect the next system in the overall building."
For example, the gutters had been maintained, but that maintenance over the last 100 years had degraded their performance, which affects the foundation, walls and roof.
"Those gutters were filled year over year with tar and foam and screen and so, eventually what was happening is, the overflow on the gutters was the only thing that was actually operating to take the rain or meltwater away. Heat trace was put up there. (There were) all kinds of things that the original designers didn't really plan for or intend."
"It was one small fix over another small fix over another small fix that finally wound up with a situation where the gutters were creating a problem in the walls," said Munro.
"The gutters as they stand now are restored to almost the original state with some improvements in materials and they are functioning beautifully."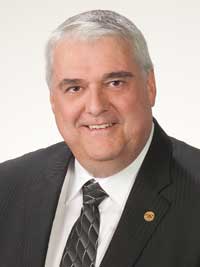 Bert Munro, P.Eng., FEC, FGC (Hon.)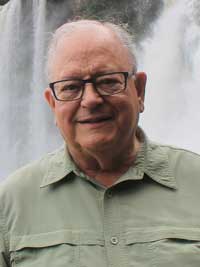 Robert Halliday, P.Eng.
Appreciating earlier work
While doing that work to the system that protects the building from water, they noted that each downspout was its own ornamental feature on the building. That recognition was one example of many that made those working on the building appreciate the craftsmanship from the past.
"They must have had a platoon of sheet metal workers on the site doing this work," said Halliday.
"When we came to restore it, our consultants had to scramble to find one person in the city who could duplicate what those people had done 100 years before."
"A lot of that metal work is just remarkable when you think of how they did it in those days."
Restoring this cathedral ensures that the vision that early citizens of Saskatoon had for their city continues. The efforts of the people from Saskatoon's past can be experienced and appreciated by people today and those who come in the future.
"It's absolutely remarkable what the original builders achieved with the materials and the technology that they had at the time," said Munro.
"Every time we open something up or see something new, I'm absolutely impressed at how well they put it all together."
"The most rewarding pieces of this for me is being able to sort of preserve what those people built in a way that some future generation will still be able to see it and understand it and enjoy it."
Bringing in others
Restoring the gutters was crucial, but the appreciation for them was not universal. Understanding and appreciating the work that was necessary to restore the building was not always easy for those who were asked to donate funds.
"People were more excited about the $10,000 we spent on refinishing the exterior doors than the $100,000 or so we spent on some of the gutters," said Munro.
"It's what you can see and that's a big piece of it. Unfortunately, so much of what had to be fixed here was stuff you don't see."
A comic once defined an engineer as someone who solves a problem you didn't know you had in a way you don't understand. But raising enough money to do this project was no joke to Halliday and Munro.
While the architect they worked with was accustomed to persuasively speaking to members of heritage committees and city staff, these engineers had to learn to effectively communicate about the project with parishioners and other community members in order to get them to financially support it.
"I have always said that Bert and I are not fundraisers, but I'd like to think we did a pretty fair crack at it," said Halliday.
Building trust by explaining what was needed and why, and being true to their word about getting done what needed to be done, was important. This reputation made others more confident about providing funds and granting approvals.
"Most of this work has been undertaken based on funds in hand and that to me is a is a real sign of the commitment of the people that have been interested in the project," said Munro.
Now, the benefits of this restoration are being felt by those using the church. Before gutters were fixed, when it rained outside in the summer, it also rained inside. People would have to bring out plastic sheets and buckets to protect the interior and collect water.
It used to be that during the winter, the south side of the exterior of the church was covered in ice. Inside, during December, it would get so cold that the Saskatoon Symphony Orchestra couldn't practise as usual because the interior temperature was too low for their instruments.
"The next year there was no ice on the wall whatsoever at the same time of the year because the system is functioning properly," said Munro.
Contributing to the community
The projects an engineer works on make them part of something larger than themselves. Reflecting on what is accomplished during and by the project and the time it takes to see a project through is a reminder of this.
Since this project began, the phases that have been completed over more than a decade of work covers all the priorities that were major expenses. What is left to start are smaller jobs, such as some brickwork that can be done over a number of years as well as interior painting.
"I'm not sure we could point to any modern building in Saskatoon that has been built to last 100 years. These old churches are quite remarkable in that respect," said Halliday.
"In those days, when people went to church, they thought it was a forever building and I think we like to think that, too, but, we are at least good for another several decades."
Source: https://www.apegs.ca/going-back-to-the-original-design