Kirsten Marcia has learned many lessons since starting DEEP in 2010 to explore the potential of geothermal power production.
By Martin Charlton Communications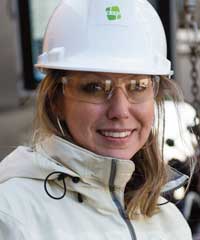 Kirsten Marcia is the president and
CEO of DEEP, Canada's first
geothermal power facility located
near Torquay, Sask.
Kirsten Marcia, P.Geo., is going full steam ahead to develop the first geothermal power facility in Canada.
"There isn't any geothermal production in Canada and I thought, why not?" said Marcia.
"We knew the hot water existed (in southeast Saskatchewan.) We knew it had a good shot at being a great resource. If we can put all three legs on the stool, we've got a successful project."
Proving that those three legs – the resource, a customer and a supportive regulatory environment – are in place would take nearly 10 years. But the company Marcia co-founded and the $50 million project it undertook near Torquay can now point to having the front-end engineering and design (FEED) with a corresponding feasibility study and report completed.
"It was a different world ten years ago," said Marcia, who serves as DEEP'S president and CEO.
"There was a lot less interest in developing renewable energy resources."
Starting out in geothermal
Marcia became the founder of DEEP at a time when she was ready to do something new in her career, but it has taken far more than this geologist first anticipated to get to this point.
"I came to this project not specifically with a renewable energy background but as a resource entrepreneur," said Marcia, whose experience included being a wellsite oilfield geologist as well as exploring northern Saskatchewan for gold, base metals, diamonds and coal. She has served as a vice-president of exploration, a director of investor relations and an exploration manager for other resource companies.
That experience in the resource sector taught her what it took to develop a business case to develop a resource. She had the connections in oil and gas to bring the expertise needed to the fluid-moving project.
Energy transformed
Essentially, the project involves production wells bringing hot brine from the Deadwood and Winnipeg Formations of the Williston Basin to the surface.
"If you think of the Williston Basin as a stack of pancakes. We are developing the very bottom pancake," said Marcia.
"It's a real blend of heat mining and typical oilfield fluid production in a sedimentary basin."
"We're mining this inexhaustible supply of heat out of the ground, but using standard oilfield technology and expertise (to do it)."
The geothermal energy in that hot water and steam is converted into electricity in a plant on the surface.
That plant uses Organic Rankine Cycle (ORC) technology. ORC technology is used in other industries that generate heat, including paper mills, gas compressor stations, cement factories, gas processing plants, oil and gas refineries, incinerators and chemical plants. In Saskatchewan, there are at least four facilities using ORC technology. Those four plants — which are owned by NRGreen Power Limited Partnership — are all built at Alliance Pipeline compressor stations where they recover the exhaust heat from natural gas turbines to make electricity to supply SaskPower.
New to Canada
While there are geothermal plants in others parts of the world, including the U.S., this would be the first in Canada.
Marcia has learned many lessons since starting the company in 2010 to explore the potential of geothermal power production. While the resource was there — giving Marcia the first leg she needed on her three-legged stool/business case — the funding was not and securing it has proven to be her biggest challenge to overcome.
"I'll be totally honest. It's been hard," said Marcia, who founded the company along with Steve Halabura, P.Geo., a former president of APEGS well known by those in potash and helium resource development who has incubated a number of new business projects.
Those she approached early on did not see what she saw.
"The oil and gas companies we approached, which I thought would be a perfect fit for investment, preferred to stay in the business they knew best," said Marcia.
What they knew was that reservoirs of oil often include water. For them, bringing that water to the surface was an expense because they must appropriately dispose of that water.
"Water in oil and gas is an operational cost. It is not something you look at as offering value," said Marcia.
Overcoming that objection was not as simple as producing reports like the one she has from 2013/2014 when DEEP received $2 million from SaskPower and Natural Resources Canada to do a pre-feasibility study.
"It's a binder that sits on my desk collecting dust. There is one paragraph in there that says this is a viable project. This project has a really great shot," said Marcia.
"I thought, at that time, with great naivety, that we could finance the project with that."
Environmental consciousness to the rescue
While investors had little interest in the junior resource sector at that time, other changes in favour of DEEP were underway, including the Paris Agreement being signed in 2015 and the federal government developing its updated climate plan with a policy goal of net-zero emissions by 2050.
Geothermal has no carbon dioxide emissions and boasts the smallest environmental footprint of the renewable energy sources. It is also very reliable, having an almost continuous baseload supply of electricity available.
These benefits and a growing consciousness around the environment drew in others interested in DEEP's potential. This would contribute to Marcia achieving the second leg of her stool/business case — a customer.
SaskPower signed a power purchase agreement in 2017 in support of its goal of having 50 per cent of its capacity come from renewable power by 2030. The agreement allowed DEEP to continue a proof-of-concept study to determine the feasibility of the project.
Homegrown oil and gas expertise lends support
Not that those in oil and gas didn't encourage the project. In fact, a defining development came from that industry's support and expertise.
"This is a fluid-moving project and no one knows this better than the oil and gas industry," said Marcia.
In late 2018 and early 2019, the company drilled its first well and "it came up beautifully," said Marcia.
But the water it produced came up at 125 C, which, while hotter than expected, was still measuring as a lower temperature resource by those knowledgeable about geothermal energy.
"To be economic at those temperatures, you need to move massive volumes of fluid," said Marcia, who explained that while "people in oil and gas always think we have a decimal point screwed up" because of how much fluid they must move, the principles of managing fluid production are consistent in both industries.
"We were seeing challenges of how to accomplish that in these vertical wells."
"There are similar challenges in the oil and gas industry all the time in managing fluid production rates."
"It didn't take long for the oil and gas industry to tap me on the shoulder and suggest the standard horizontal drilling and completions in order to achieve the volumes."
"That whole well design of drilling horizontally rather than vertically for geothermal could crack the code on some of these lower-temperature resources around the world for sedimentary basins.
"That is based on our world-class engineers and geoscientists here in Western Canada."
Impact on Saskatchewan
"We're excited this very unique new design for developing wells using oil and gas completions could be transformative for the geothermal industry," said Marcia, but right now, the focus for DEEP is to complete this project in Saskatchewan.
"There are not many places in the world where we can get all three legs of the stool to develop a brand-new resource for Canada," said Marcia, who greatly appreciates Saskatchewan for what she describes as having "one of the best regulatory environments in the world for supporting projects" such as hers. That regulatory environment is the third leg of her stool/business case.
The support of the federal government has also been a major boost. It has contributed $27 million through Natural Resources Canada, first as a ecoENERGY Innovation Initiative for a pre-feasibility study in 2014, then through its Clean Energy Innovation Program (alongside Innovation Saskatchewan's contribution) in 2018 toward test drilling and finally through its Emerging Renewable Power Program to support commercially viable renewable energy sources working to reduce greenhouse gas emissions in the electricity sector. That government funding made the project more appealing to private investors by bringing down DEEP's risk profile, said Marcia.
There are a couple more years of work to get to the point that the facility can produce up to 32 megawatts of clean energy — enough to power about 32,000 houses.
"We're looking at the beginning of 2024," said Marcia, who credits the SaskPower agreement with allowing DEEP to order the long-lead items it needs, such as the power generation equipment.
But the project offers the province more than electricity from a clean, renewable source.
"Below ground and above ground, this is a really exciting Saskatchewan diversification project," said Marcia.
"Seventy per cent of the province is powered by fossil fuels," said Marcia.
"I'm not saying that fossil fuels will go away completely, but projects like this have the opportunity to diversify in a rational way."
They also offer a new opportunity to an existing workforce in the southeast part of the province.
"There is also an opportunity to diversify people. Those who have been working traditionally in oil and gas, that same skillset can be redeployed in the renewable energy industry," said Marcia.
Originally published in The Professional Edge for APEGS.